WHAT. A. RACE. Those 3 words explain A LOT when you think about what a memorable race the 2021 Bahrain Grand Prix was. For the first time in quite some time, we had a race that went down to the wire. When I look back at this race, it reminds me of the 2018 Bahrain Grand Prix. I remember watching how tantalisingly close Bottas was to winning the race, with Sebastian Vettel doing an amazing job to hold off the Finn, despite being on REALLY old tires.
Well, at the 2021 Bahrain Grand Prix, Max Verstappen got EVEN CLOSER to winning. In this race, Lewis Hamilton showed his true pace and true strength even more than before. The last-lap battle between the youngster in the Red Bull and the veteran in the Mercedes was a battle that fans have been waiting to see for years, and it finally arrived in 2021.
As it usually is with season openers, there's A LOT of analysis and discussion that you DON'T wanna miss. In this Race Review, we'll be looking at the exciting start and the early action from the race. Of course, we'll be looking at the battle between Hamilton and Verstappen, and how Mercedes pulled this win off, and despite their tire struggles. We'll also look at the tight midfield battles, and how the field is EXTREMELY close this season. So, for the very first time in 2021, let's get into the Race Review!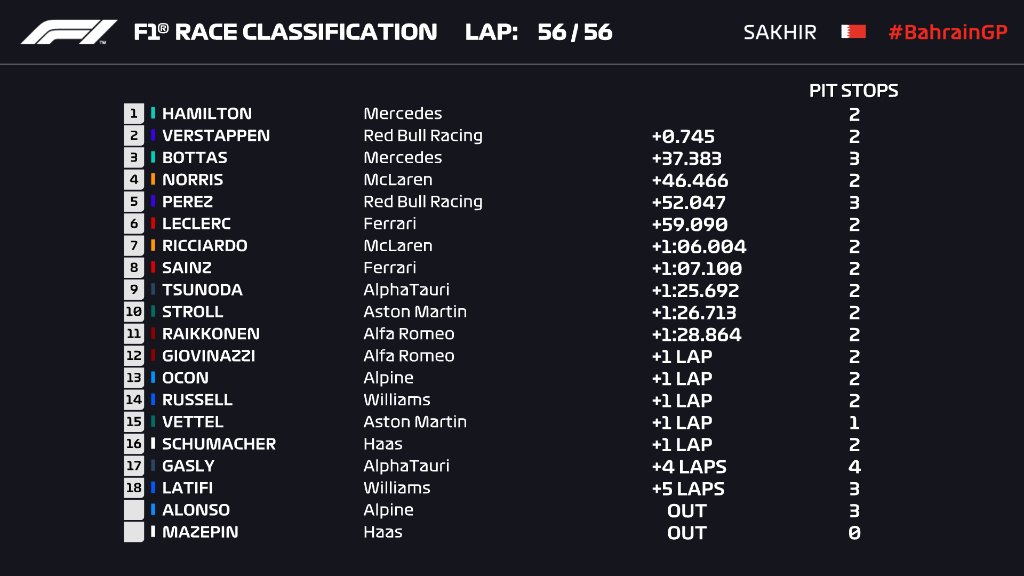 The Action-Packed And Dramatic Early Laps
The last time we were in Bahrain, Sergio Perez completed a masterclass that no driver had ever done in Formula 1 before. He went from being last on the first lap, to finishing first on the last lap. IT. WAS. INCREDIBLE. I don't know what it is with the Bahrain GP and with Sergio Perez, but the Mexican was in last on the first lap of the race AGAIN! Towards the end of the Formation Lap, just before the race start, Perez's car suddenly shut off. There was absolutely no power, which almost meant the race ended for Perez before it even started.
Luckily, fans could start relaxing a little bit more. Race Control aborted the start, and an extra formation lap took place. Because of this extra formation lap, the stewards took away a lap from the race. The race was now 56 laps long instead of 57. This extra formation lap allowed Perez to start his again, and he made his way to the pit lane. If something like an engine problem happens on the way to the grid, and the driver manages to fix it before the race starts, the driver must start the race at the end of the pitlane. That means that Perez started this race dead last.
Starting from the pitlane actually even worse than starting in last on the grid. When you start in last on the grid, you can overtake cars into Turn 1. When you start from the pitlane, you are only allowed to start once all cars have crossed the pit exit and are going into Turn 1. However, the pitlane start wasn't such a bad thing anymore, because the Safety Car came out before the drivers even made it to Turn 4. What a topsy-turvy start to the race! The SC came out because Nikita Mazepin couldn't control his Haas out of Turn 3, which caused him to spin and hit the barriers.
The Haas hit the barrier hard, which damaged the car pretty badly. So the marshals and the cranes had to clear the car from the track and clear any debris. That's why Race Control deployed the Safety Car. The Safety Car remained in front of the pack until the end of Lap 3. This Safety Car restart was incredibly exciting and VERY critical for Verstappen. Hamilton is notoriously quick at SC restarts, and slipstream down the long main straight is notoriously powerful at Bahrain.
As Valtteri Bottas did at the 2020 Tuscan Grand Prix, Verstappen delayed his acceleration. He held off Hamilton and went slowly until the Safety Ca2r line, and then suddenly darted, so that Hamilton wouldn't get a good getaway and good slipstream. Although Hamilton got the restart perfectly right, and he also got alongside Verstappen as well. However, Verstappen defended into Turn 1, and he managed to stay ahead of the Mercedes.
However, soon after the Safety Car restart, there was more drama. As the battles began, a couple of drivers struggled. Mick Schumacher spun at the exit of Turn 4, proving that the Haas VF-21 has absolutely no rear stability. It seems the 2021 Aero Regulation Changes have hit Haas really hard. Also, Pierre Gasly in the AlphaTauri didn't have a good Safety Car restart. He lost a position to the charging McLaren of Lando Norris.
Then Norris's teammate Daniel Ricciardo tried to overtake Gasly. This happened at the exit of Turn 4, and Gasly starting braking a little bit later into Turn 5. However, Ricciardo broke a little bit earlier, and when Gasly was trying to take evasive action, he hit the rear-right tire of Ricciardo's car, which broke Gasly's front wing. It was disastrous for the Frenchman, and the broken debris resulted in a virtual Safety Car.
Exciting Battles Throughout The Race
One of the greatest things about the Bahrain International Circuit is that it is very well designed for overtaking. The final corner of the track is designed so that drivers can brake late and go into the corner fast, while still achieving a fast exit. That benefits them and gives them gains down the long main straight and allows them to make overtakes into Turn 1. And if the overtake doesn't happen at Turn 1, a driver can optimize his exit through Turns 2 and 3 and use DRS down the straight to make a move into Turn 4. That's why, after the Virtual Safety Car ended, we saw battles and overtakes all over the place throughout the race, making the 2021 Bahrain Grand Prix even more exciting, and making us excited for the closest season of Formula 1 we've had in a long time.
First, we saw Charles Leclerc in the Ferrari defending from Lando Norris in the McLaren. The 2 youngsters were battling for the entirety of the first sector, with Norris trying to use the overtaking opportunities that I mentioned above. However, the exit of Turn 4 is optimized for defensive driving. A driver defending his position can easily push an attacker wide and possible off the track while staying within the rules. And that's exactly what Charles Leclerc did until Norris got him into Turn 1 on the next lap, which was Lap 9. That meant Norris finished this Bahrain Grand Prix in P4. It was another masterful drive and a strong opening race from the Brit, which people didn't really realize because of all of the buzz around Hamilton holding off Verstappen to win the race. Amazing job Lando! Keep it up for the next race 💪.
Another driver who battled his rivals was Fernando Alonso. The 2-time World Champion was struggling to defend from charging drivers, which made for loads of exciting side-by-side action. The most memorable of Alonso's fights was when he was overtaking Sebastian Vettel in the Aston Martin and defending from Carlos Sainz in the Ferrari. Alonso had DRS down the main straight, and he overtook down into Turn 1. Vettel and Alonso have historically had many battles, especially during Alonso's time at Ferrari back in the early 2010s. Now in 2021, they were fighting for positions again, albeit lower down the field.
But behind these former World Champions was the up-and-coming Prancing Horse of Carlos Sainz. He also overtook Sebastian Vettel into Turn 1. But through Turns 2 & 3, Alonso was slow, and he didn't get DRS down the next straight. That allowed Carlos Sainz to slip through, and then Sebastian Vettel got Alonso down the inside as well. It was some FANTASTIC Formula 1 action. It was quite sad that Alonso had to retire on Lap 32. A bit of debris got stuck in his brake ducts, which forced retirement.
Esteban Ocon, Yuki Tsunoda and Sergio Perez were all trying to make their way through the field. They were making many moves into overtaking spots like Turn 1. Tsunoda didn't have a good start but overtook the likes of Fernando Alonso (before he retired) and Lance Stroll (on the final lap!) to take P9 in his debut in Formula 1. Well done, Yuki Tsunoda! I have a feeling we're going to see more action from the rapid rookie…
Esteban Ocon had a bad qualifying due to the yellow flags ruining his lap in Q1. He was trying to make amends in the race and was making many overtakes and engaging in many battles with competitors. They were also trying to make it into the points. However, when Ocon overtook Sebastian Vettel into Turn 1 on Lap 44, Vettel tucked in behind the Alpine. But Vettel unsettled the car a little bit and broke too late, which meant he hit Ocon from behind, and both of the cars spun. Vettel received a 5-second time penalty and finished 15th. Ocon finished 13th and was a long way away from points.
And then there was Sergio Perez. Many people believe that that 2nd seat at Red Bull is cursed, but Sergio Perez might have FINALLY gotten rid of the bad luck around that seat. He conducted a masterful drive, showing his experience, talent, and just raw speed. In his first race in a new car, he managed to go from a pitlane start to P5. True, his predecessor, Alex Albon, did manage such drives in his early days at Red Bull. But so far, things are going fairly great for Checo, and I hope that Checo can succeed and stay with Red Bull. Sergio Perez won the fans' hearts, and achieved Driver of the Day for his amazing drive. Do you think he can do even better at the next race in Imola? Let us know in the comments below!
How Mercedes and Hamilton Won the 2021 Bahrain Grand Prix
And finally, the part you've all been waiting for. Both Mercedes and Red Bull had really powerful strategies for the 2021 Bahrain Grand Prix. Both Verstappen and Hamilton pulled off some excellent driving. But Mercedes just managed to come out on top, and here's why. Let's go to the early stages of the race, to the end of Lap 13. Lewis Hamilton came into the pits surprisingly early, since he started the race on the medium tires. The mediums are supposed to last a fair bit longer than that, but it was evident that the Mercedes drivers were struggling with their tire wear. However, it wasn't such a bad thing that Hamilton pit earlier.
The undercut, which is when a driver pits earlier than their competitors, is very powerful in Bahrain. Mercedes were doing an undercut, and it was fairly clear that it was going to work, and that when Verstappen pit for new tires, he would come out behind Hamilton. Everyone expected that Red Bull would react to the threat of the undercut. Everyone expected that Verstappen would pit 1 or 2 laps after Hamilton, which reduced the risk of the undercut. Before Hamilton pit, Verstappen was 1.7 seconds ahead of him. When Verstappen pitted at the end of Lap 17, he came out of the pits over 5 seconds behind Hamilton. This is that moment where people thought that Red Bull messed up. Until we realised that they didn't.
When Hamilton pitted on Lap 13, Mercedes changed his medium tires for a fresh set of hard tires. This was because they didn't have any fresh sets of mediums for Hamilton. Red Bull had a fresh set of mediums for Verstappen and switched Verstappen's set of mediums for that fresh set. Then Verstappen made some serious gains in terms of pace and his gap to Hamilton. The reigning champion, however, struggled to make use of his hard tires and had to pit REALLY early. He only stayed out on the hards for a mere 14 laps, and pit on Lap 28 for a final set of hards. He had to spend 28 laps on one set of hards, double the time he spent on his previous set of hards. It wasn't looking good for Mercedes.
And that's where Red Bull started to shine. On Lap 39, a good 21 laps after his first pitstop, Verstappen came in for a set of hard tires. His tires were 11 laps fresher than Hamilton's meaning Verstappen was gaining time a lot of time on the Mercedes. The Dutchman had 16 laps to gain around 8.5 seconds, and, in the words of the F1 commentator David Croft, it was game on, for there were 2 rapid drivers chasing the 2021 Bahrain Grand Prix victory.
By Lap 42, with 14 laps to go, Verstappen was around 6.5 seconds away from Hamilton. Lap after lap, corner after corner, the Red Bull was gaining time on the evidently struggling Mercedes. Fast-forward to Lap 51, and the time has finally arrived. Max Verstappen was within 1 second of Lewis Hamilton. This meant that down the 3 DRS straights, Verstappen would get an extra 12 mph of top speed when the flap in his rear wing would open. Verstappen gained and gained and gained, and at the end of Lap 52, he was right there, right behind Hamilton. Verstappen charged down the main straight with DRS open, closed up on Hamilton with blistering speed. When he arrived at Turn 1, he couldn't make an overtake, but as he came through Turns 2 and 3, and then opened DRS, he went for it.
Down the straight went Hamilton and Verstappen. Hamilton defended the inside line, and although he left space down the inside, Verstappen couldn't go there because there was a lapped car trying to get out of the way of the battling duo. And as Verstappen arrived at Turn 4, he was ahead of the Brit, but then Hamilton was still there at the inside. Hamilton tried to give it everything at the exit of Turn 4, but so did Verstappen. In fact, Verstappen gave it a little bit too much. He ran off the track, and then got back on track to complete the move.
For a moment, everyone thought it was done. Everyone thought that Max Verstappen was going to win the 2021 Bahrain Grand Prix. Until the drivers reached the back straight. Verstappen pulled aside, letting Hamilton through because Verstappen completed the overtake when he ran off the track. That was illegal. When Verstappen gave the position back, there was still a little hope, that with 3 laps to go, Verstappen might get past Hamilton again. But Hamilton defended and even made a gap, especially because Verstappen's tires were now finished. Verstappen had not managed his tires enough, while Hamilton had saved his best for last. We arrived at the final corner of the final lap, and Hamilton came across the line to take victory at the 2021 Bahrain Grand Prix.
Against all the odds, the 7-time World Champion proved that he doesn't need the fastest car on the grid to win. He is truly an amazing driver with extreme talent, who fought off an incredibly fast driver, who was in a clearly faster car. Let me know in the comments below, did you enjoy this season opener? Was this the most exciting season opener you've ever seen in Formula 1? I'm going to say yes, but I want to know what you guys think! Stay safe, stay on the lookout for new posts, and enjoy F1ntastic!