THE 2021 BAHRAIN GRAND PRIX QUALIFYING HAD US AT THE EDGES OF OUR SEATS!! Red Bull Racing's Max Verstappen clinched pole position! This is something that we've all been waiting for, with Verstappen taking a clean sweep so far. He was first in all 3 practice sessions, and now he takes pole in qualifying! Verstappen and Red Bull looked quick in pre-season testing, and they have lived up to the hype at the Bahrain Grand Prix so far. Do you think Verstappen can continue his form and win the Bahrain Grand Prix? Let us know in the comments below!
What's even more shocking is the margin by which Verstappen beat Hamilton. Lewis Hamilton was on provisional pole in his Mercedes, until Verstappen crossed the line. He put in a stellar, and all-conquering lap time of 1m 28.997 seconds. This lap was an astonishing 0.388s faster than Hamilton's time. Considering how close the field is in 2021, it's surprising how dominant the Red Bull was. By the Red Bull, I mainly mean Max Verstappen. Unfortunately, the 2021 Bahrain Grand Prix Qualifying is one that Sergio Perez might try to forget. Verstappen's teammate Perez got knocked out in Q2. The Mexican only managed to finish Q2 in P11, and he was only 0.035 seconds away from making it into Q3.
I think Checo wasn't able to extract the maximum pace out of his medium tires, which is why he couldn't make it into Q3. However, if Perez's race pace from 2020 is anything to go by, there's a good chance he'll make amends and score some points in the race. Besides, both the Red Bull drivers have proven that their RB16B is the car to look up to.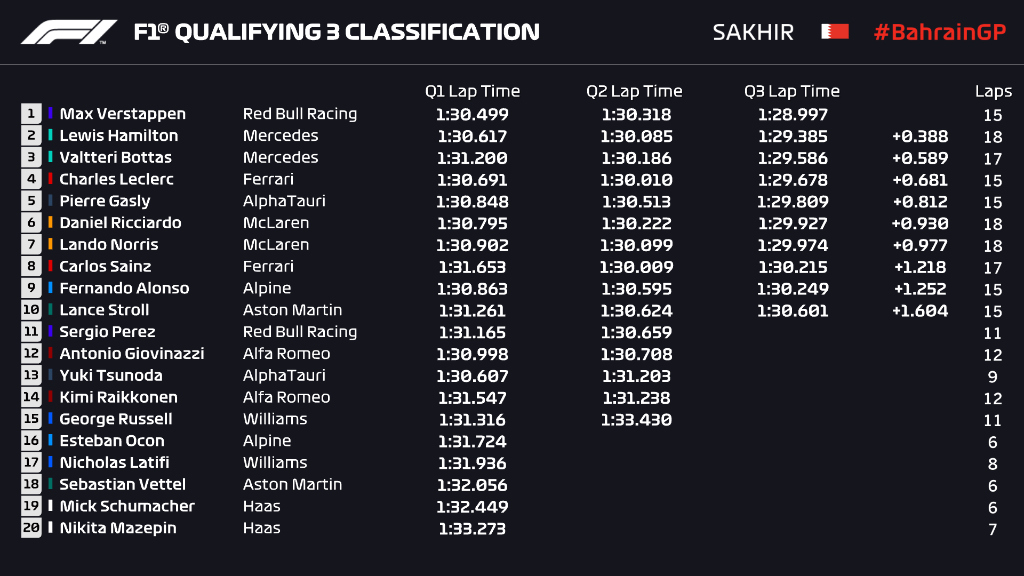 However, it wasn't as astonishingly dominant in the early parts of Qualifying. Verstappen and Hamilton did 2 runs in Q3, with Verstappen's first run only 0.023s faster than Hamilton's first run. This REALLY excited everyone, because that's incredibly close racing. In the end, Verstappen beat Hamilton by 0.388s when they completed their 2nd runs. Close behind Hamilton was Valterri Bottas. The Finn's fastest lap was 1:29.586, only 0.201s slower than Hamilton's lap. A Mercedes 2-3 is promising because they REALLY struggle in pre-season testing. Their qualifying pace is a sign that they've made massive amends between testing and the Bahrain Grand Prix.
But Mercedes aren't the only ones who have made big improvements. Ferrari is flying high, with Charles Leclerc qualifying in P4. To explain what a MASSIVE step this is, Charles Leclerc qualified in P12 for the 2020 Abu Dhabi Grand Prix. Leclerc's new teammate Carlos Sainz finished his first qualifying of 2021 in P8, which was already an amazing result for him. He might not have even competed in Q2 and Q3, because he ran over a kerb in Q1 and his engine stopped. Luckily, his engine came back to life almost immediately, and the Ferrari mechanics managed to fix the issue before Q2, and Sainz was able to qualify in P8 in his first quali with Ferrari.
The AlphaTauri cars were RAPID, with Pierre Gasly qualifying in a worldly 5th, and his teammate Yuki Tsunoda qualifying in P13. While Gasly was elated, Tsunoda was fairly disappointed with his performance. His aim is to "reset" for the race and to push for points and a good result. Behind Gasly was the McLaren duo, with Daniel Ricciardo qualifying in 6th ahead of his teammate in 7th. While the McLarens showed blistering pace in practice, it looks like they didn't quite perform as well as expected in qualifying. However, the drivers are satisfied with their quali performance, and they're ready to take on the race.
Haas faced big struggles in qualifying, with their cars occupying the last row on the grid. Mick Schumacher qualified in P19, and was around 2 seconds slower than Verstappen in Q1. Things were even worse for Nikita Mazepin, who was a further 8 tenths of a second slower than his teammate. Mazepin spun twice in qualifying. Once at Turn 13, and once at Turn 1. His Turn 1 spin was the worst, because it hampered many drivers, including Sebastian Vettel and Esteban Ocon. Both of them were on flying laps to try and get into Q2, which they could've done easily. But then they had to slow down and honor the yellow flag cautions that Mazepin caused, which ruined their laps.
"I had an issue with brake by wire. I locked up on the rears, I'm not sure why, at Turn 1," he explained. "The pedal just went long. We need to look into that. Something that I didn't really expect and shouldn't happen. I've never had it driving in the test before or free practice. Hopefully that won't happen tomorrow."
Mazepin also broke the 'gentleman's agreement', which is to make sure that you don't overtake drivers on the back straight when they're preparing to start their quali laps. To be fair to the rookie, he was unaware of the agreement and will take notice of it in the future. Both Haas drivers' qualifying was disturbed by the FIA calling them to the weighbridge to check if their cars were the correct weight. This lost them a lot of time, which is why they had to push to get a lap in for qualifying.
Sebastian Vettel will start his Aston Martin debut in P18, and he's still not got to grips with his new car, so we don't know how he will fare in the race tomorrow. Plus, Vettel was found to have possible not adhered to the yellow flags, so he may drop down to the back of the grid. Vettel's 22-year-old teammate Lance Stroll achieved an amazing qualifying, bringing his underperforming Aston Martin AMR21 to P10. However, he was around 3 and a half tenths of a second slower than Alonso in P9.
Esteban Ocon might be able to score points with his Alpine A521. The car's not as fast as the team want it to be, but Ocon's teammate, Double World Champion Fernando Alonso managed to qualify in P9, meaning there is still hope for the team to score decent points in the race.
Finally, we arrive at the Alfa Romeos and the Williams cars. Both of these teams have made gains over the winter, and are showing promise of doing better in 2021. Williams has made small gains, but Alfa Romeo, as their testing performance showed, have made BIG gains. Both Raikkonen and Giovinazzi made it into Q2, where they qualified P14 and P12 respectively. In 2020, the Alfas struggled to make it out of Q1, but they've definitely come a lot closer to points in 2021. Williams qualified in P15 and P17, with George Russell making it into Q2, but being the slowest in that session. Russell's teammate Nicholas Latifi managed to beat Vettel in the Aston Martin, but only because of the yellow flags slowing the Aston Martin down.
The very first qualifying of the season was more than just exciting. Many drivers head into the race ready to reset, refocus, and get redemption for a topsy-turvy qualifying. Be sure to watch the 2021 Bahrain Grand Prix, with the race starting at 1500 GMT, or 1800 Local Time in Bahrain. Stay safe, stay on the lookout for new posts, and enjoy the Bahrain Grand Prix!