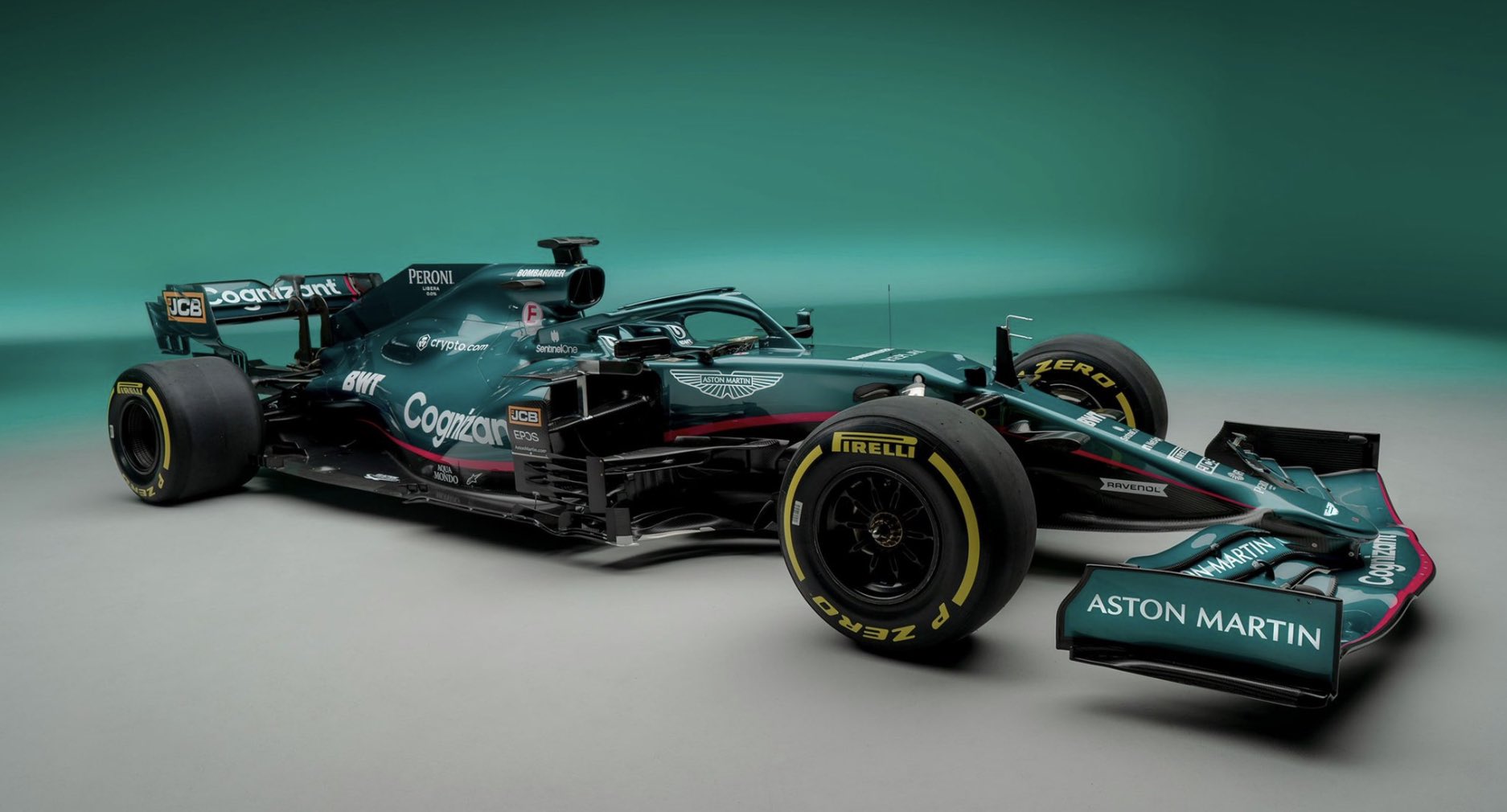 | | |
| --- | --- |
| Full Team Name | Aston Martin Cognizant F1 Team |
| Base | Silverstone, United Kingdom |
| Team Chief | Otmar Szafnauer |
| Technical Chief | Andrew Green |
| Chassis | AMR21 |
| Power Unit | Mercedes |
| First Team Entry | 2018 |
| World Championships | N/A |
| Highest Race Finish | 1 (x1) |
| Pole Positions | 1 |
| Fastest Laps | N/A |
Aston Martin. Such a historic brand has entered Formula 1 this year, or should I say, they re-entered Formula 1. Aston Martin F1 first entered Formula 1 as a constructor way back in 1959. However, their journey was short-lived, for they only participated in 5 races before leaving F1. However, around 60 years later, Aston Martin is back. This team has faced many major changes in recent years. 3 years ago, Aston Martin F1 was Force India. Force India began in 2008 when the Indian billionaire businessman Vijay Mallya took over the Spyker team. He then rebranded the team to Force India.
Eddie Jordan founded Jordan Grand Prix in 1991. In 1999, they finished 3rd in the constructors' championship, and their driver, Heinz-Harald Frentzen, nearly won the drivers' title that year. Jordan was also famous for giving Michael Schumacher his F1 debut in 1991. However, in 2005, after a good 14 years in Formula 1, Eddie Jordan sold the team to the Midland Group. They kept the Jordan brand for 2005 and rebranded the team to Midland F1 Racing for 2006. But they sold the team to the Dutch car manufacturer Spyker in 2007, who sold the team to Vijay Mallya in 2008. Mallya rebranded the team to Force India. Force India slowly but surely established themselves as a team that could extract the absolute maximum out of the little resources they had. This team competed with teams like Williams, Renault, McLaren and even Red Bull.
Obviously, in their first year in F1, Force India didn't succeed. They were the slowest team on the grid, apart from Super Aguri, a Japanese team that pulled out of F1 in the middle of the 2008 season due to financial problems. 2009 saw Force India change to Mercedes power and make some big progress. They took pole position, and then 2nd place in the race at the 2009 Belgian Grand Prix, and scored points in the next race in Italy. Obviously, the podium was a one-time thing, and the next podium came in 2014.
In 2010, Force India began their march up the field and made big progress. They finished 7th in the championship and scored 68 points, which was a big leap (partly due to the points system changing). In 2011, 2012, and 2013, Force India was battling Sauber for P6 in the championship, with Sauber beating Force India in 2012, but Force India doing better in 2011 and 2013.
In 2013, there were 4 top teams (Red Bull, Ferrari, Mercedes and Lotus). Then came McLaren, which was now a 'King of the Midfield' kind of team, since they were struggling to fight the top teams, but they didn't have any challenge from the Midfield teams. And then came Force India, and Sauber, and the other midfield teams. 2014 saw a major regulation change, with both the engine and the aero regulations seeing massive changes. These changes saw a rise in the Mercedes-powered cars, with Williams making a leap from 9th to 3rd. Force India stayed in 6th, but they were much closer to McLaren and were in a proper fight with them. Force India also scored a podium at the 2014 Bahrain Grand Prix.
In 2015 Force India made a bigger step and started fighting Red Bull. Lotus had a massive fall, which promoted Force India to being the fifth fastest team. Sergio Perez, who joined the team in 2014, scored that podium in 2014 and scored another one for the team at the 2015 Russian Grand Prix. And in 2016 and 2017, Force India found even glory, and they were the Kings of the Midfield, as they finished 4th in the standings. In 2016, Perez scored 2 podiums, in Monaco and at the European Grand Prix. Perez is the only podium finisher for Force India (excluding Lance Stroll, who scored podiums for Racing Point). 2018 was a troublesome year for Force India. The High Court in London put the team into administration into the middle of the season. The team just couldn't pay its debts.
There was a massive worry in the team because there were so many people who didn't know whether they would get their salary, they didn't know whether they could support their families. And then came Lawrence Stroll. To take over the team and to save the team, a consortium of investors came in. This consortium was led by Lawrence Stroll, although people like Sergio Perez invested in the team too. Stroll taking over meant his son, Lance Stroll, would leave Williams and join Force India as a driver. Except it was no more Force India. This team was now Racing Point. Racing Point struggled in their first year. 2018 didn't see any real changes, because Stroll took over in the middle of the season. 2019 and 2020 are the real Racing Point years.
Just before we get started, I wanted to clarify that although Racing Point is now Aston Martin F1 in 2021, all that has changed is the brand. The owner of Aston Martin F1 is still Lawrence Stroll, and the Team Principal is still Otmar Szafnauer. In 2019, Racing Point certainly struggled to reach its goals. Despite the increase in funding after Lawrence Stroll's takeover, Racing Point fell to 7th in the constructors' standings.
In hindsight, they were 7th in 2018 as well, but they would've been 4th if their points from the entire season were counted instead of just the points they scored since the Racing Point takeover. Since 2018 had been a pretty rocky season with the team going into administration, Racing Point was expected to be slow in 2019. But what we didn't expect is their pace in 2020. Racing Point was FLYING in 2020. They had developed a car that was so fast it left people's jaws hanging.
Of course, one of the biggest secrets to their pace was the fact that they (Racing Point) bought Mercedes' 2019 cars' front and rear brake duct designs and used them on their cars. And for that, Racing Point was fined €400,000 and 15 constructor's championship points. Despite the fine, Racing Point could still use the same car for the rest of the year, meaning they had some blistering pace throughout 2020. They scored 2 podiums, both scored by Lance Stroll at the Italian and Sakhir Grands Prix. And then there was Sergio Perez's absolutely amazing race win at the Sakhir GP. It was an amazing year, but McLaren beat Racing Point to 3rd in the title.
This was hugely disappointing, especially because those 15 points would've put them in P3. But still, the future was looking a little brighter. After ruthlessly removing Sergio Perez from the team, Racing Point signed 4-time World Champion Sebastian Vettel to the team. And then, of course, came the proper rebranding. Into F1 came the historic brand of Aston Martin. Lawrence Stroll bought a stake in Aston Martin and has now properly rebranded his F1 team. Aston Martin did race in Formula 1 in 1959 and 1960, but only for 5 races. This time, however, they're here to stay. To learn about the drivers racing for Aston Martin F1, visit the 2021 Formula 1 Drivers page.