| | |
| --- | --- |
| Team | McLaren |
| Country (Nationality) | Australia |
| Podiums | 31 |
| Total F1 Career Points | 1165 |
| Grands Prix Entered | 189 |
| Highest Race Finish | 1st (7 times) |
| Highest Grid Position | 1st (3 times) |
| Date Of Birth | 1st July 1989 |
| Place of Birth | Perth, Australia |
Daniel Joseph Ricciardo is a driver who's been in F1 for a while but is still chasing his biggest dream. Born on 1 July 1989 in the city of Perth, Australia, Ricciardo actually has Italian parents, which explains why his surname has the spelling that it has. Daniel's father, Giuseppe "Joe" Ricciardo, was born in Italy, and his mother Grace was born in Australia, but her parents were from Calabria, Italy. Daniel also has a sister, named Michelle. Ricciardo's father introduced him to motorsport when he raced at the Barbagallo Raceway. Joe Ricciardo was very passionate about racing and about cars, which he passed on to Daniel. Ricciardo entered many karting events for around 7 years. From karting, he went to Western Australian Formula Ford, which was the last series he raced in Australia.
From there, he went racing in many junior formulae, all of which were in Europe. The final step before Formula 1 was Formula Renault 3.5. In 2010, which was Daniel's first year in the series, Ricciardo lost the title by a mere 2 points. In 2011, he left the series in the middle of the season to race in F1. Back in December 2009, Ricciardo tested for Red Bull Racing at the young drivers' test, where the F1 world noticed his unparalleled speed. For 2010, Ricciardo became a test and reserve driver for Red Bull and Toro Rosso, and also raced in the end-of-season young drivers' testing.He also drove in 2011 pre-season testing, and drove in the first Practice Session in every race weekend of 2011.
Red Bull paid the struggling HRT F1 Team to sign Ricciardo in July 2011. HRT replaced Narain Karthikeyan with Ricciardo in the middle of the season.This is when Ricciardo left Formula Renault 3.5. At the 2011 British Grand Prix, Daniel Ricciardo became a Formula 1 driver, and he made his F1 debut. Although he struggled in the incompetent HRT car, he was quick enough to earn a full-time seat at Toro Rosso for 2012 and 2013, as Ricciardo was fully integrated into the Red Bull family. These years saw Ricciardo getting to grips with Formula 1, and even though he only scored 20 points in 2013, Red Bull have faith in him.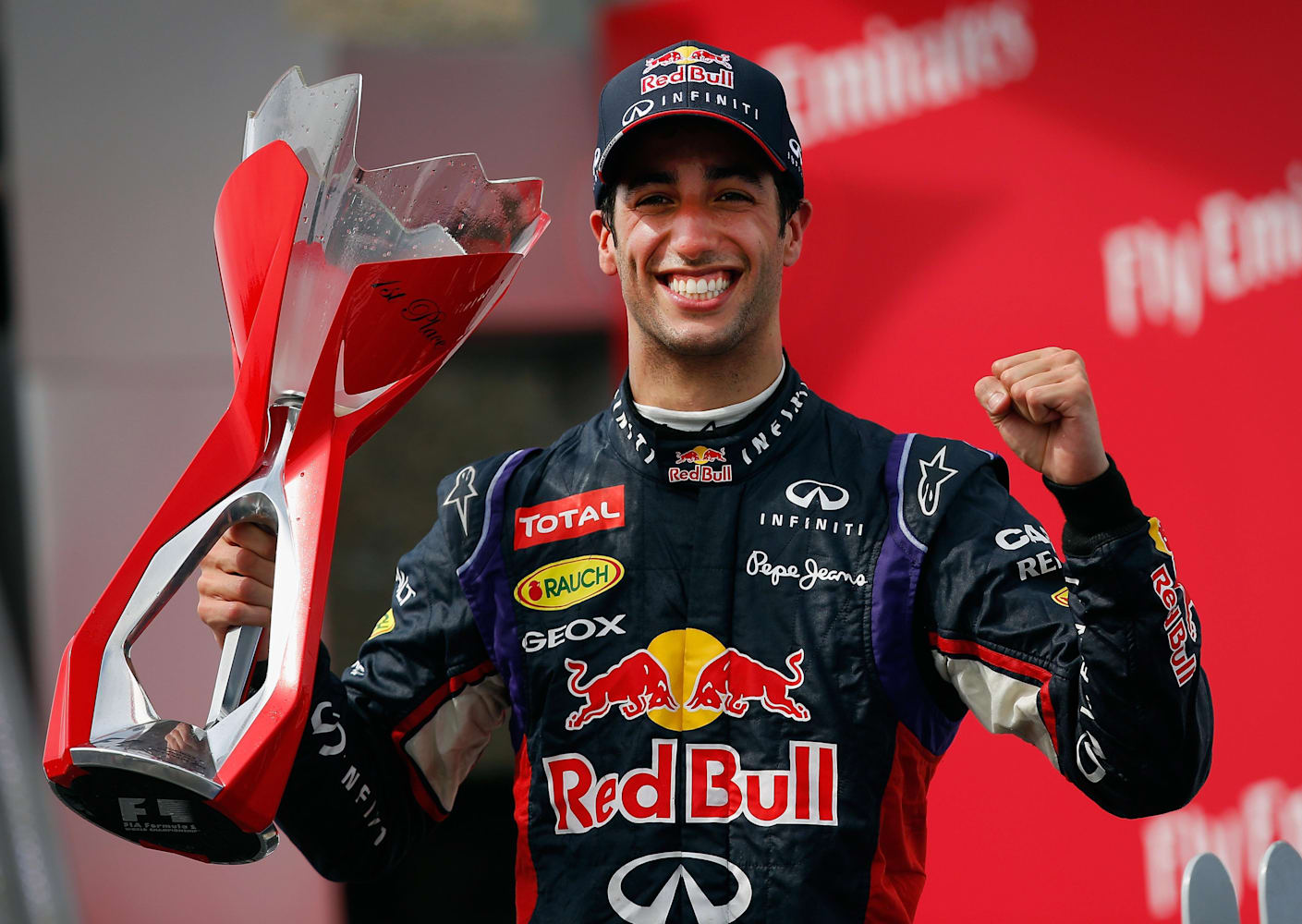 For the 2014 F1 Season and beyond, Daniel Ricciardo was a Red Bull driver. 2014 was an UNBELIEVABLE boost for Ricciardo. He scored an astonishing 238 points, and he won a race for the first time in his F1 career in Canada and took 2 more wins, and a further 5 podiums apart from the race wins. He got off to a rough start, after being disqualified from the opening race. But he finished the season strong in 3rd in the Championship. But 2015 was a horrible year, with no race wins, and just one podium. After a massive comeback in 2016 for Red Bull, a little dip began in Ricciardo's career. In 2017 and 2018, Ricciardo's competition with his teammate, the rising star Max Verstappen, became fiercer. Verstappen kept getting better and better, but Ricciardo just wasn't able to beat his rivals as often as he did before.
Ricciardo's unreliable Renault engine forced him to retire from many races too. But at the end of 2018, when Red Bull announced they were getting Honda engines for 2019 and beyond, Ricciardo made a shocking decision. He decided to move to Renault for 2 years, and possibly more. It proved to be a wrong decision. In 2019, Ricciardo retired or didn't score any points for about half of the races. 2020 was much better, with 2 spectacular podiums and only 3 finishes outside the points. But Ricciardo made the decision to move to McLaren for 2021 and 2022 before the 2020 season even started. Some say that he made the decision too early, but with his new teammate Lando Norris, he's looking to make McLaren a top team, and to win the Drivers' title someday.
Daniel Ricciardo is nicknamed the Honey Badger. The Honey Badger is an animal known or being very adorable and very cute. But when you try to take attack a Honey Badger or takes it's territory, it it vicious and fearless, and can viciously kill much larger and supposedly stronger animals. Ricciardo has got this nickname because even though he's a nice, gentle and likeable person, he's vicious out on track, as in he will both defend his position, and take others' positions very effectively. To learn more about the rest of the 2021 Formula 1 Drivers, click here to visit the guide to the 2021 Formula 1 Drivers →.