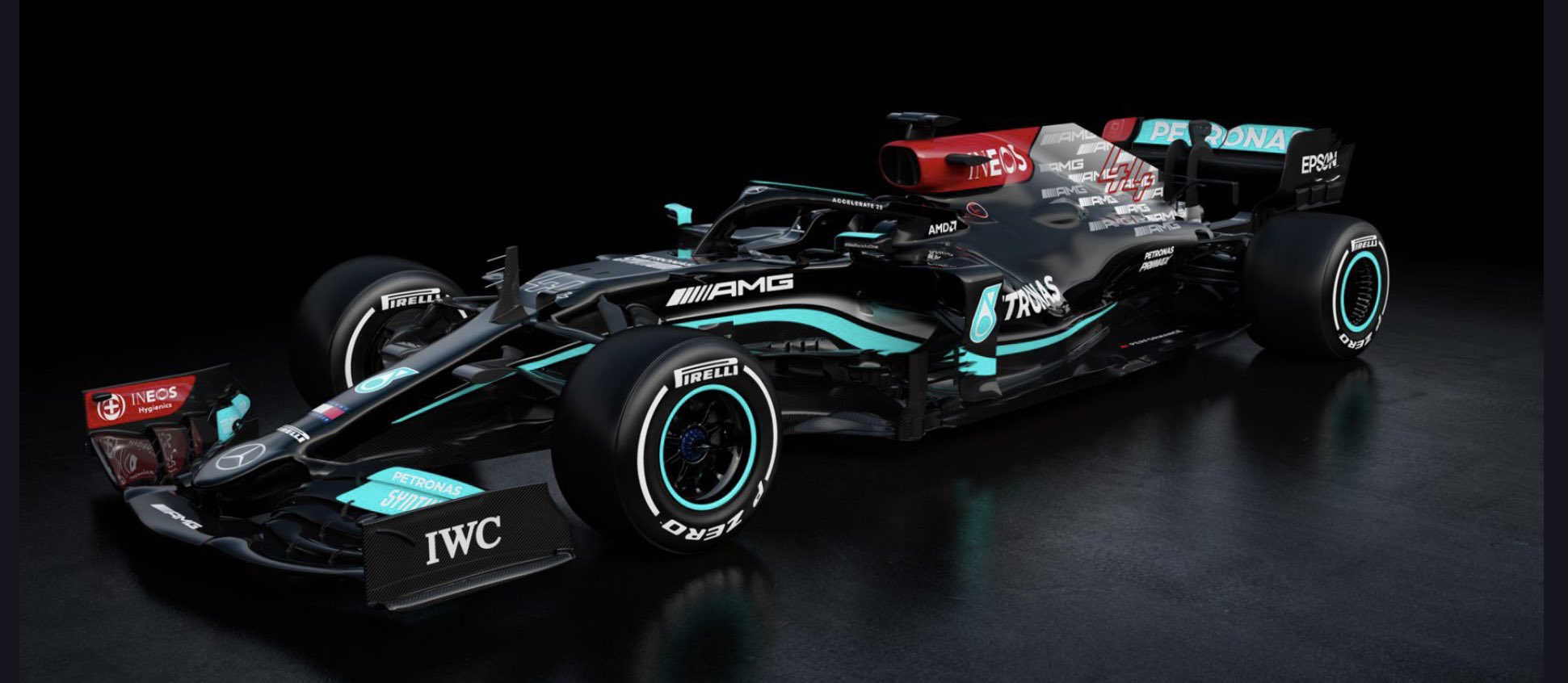 | | |
| --- | --- |
| Full Team Name | Mercedes-AMG Petronas F1 Team |
| Base | Brackley, United Kingdom |
| Team Chief | Toto Wolff |
| Technical Chief | James Allison |
| Chassis | W12 |
| Power Unit | Mercedes |
| First Team Entry | 1970 |
| World Championships | 7 |
| Highest Race Finish | 1 (x107) |
| Pole Positions | 118 |
| Fastest Laps | 76 |
The reigning champions are in a league of their own. Mercedes-AMG Petronas F1 Team, better known as just Mercedes, have dominated the last 7 seasons of Formula 1. They won the 2020 Formula 1 World Championship by A LANDSLIDE. By a landslide, I mean a 254-point gap to the constructors' in 2nd place, which were Red Bull. In 2020, Mercedes won the constructors' championship with 4 races to go in the season, despite the season being shorter than usual due to the COVID-19 pandemic.
However, these last 7 seasons are only recent history. Let's take a brief look at when Mercedes first entered Formula 1.
Mercedes In Formula 1 In The 1950s
Mercedes have been involved in motorsport since the early 1900s, in the original F1 Grands Prix. Of course, these weren't part of the F1 World Championships, as I mentioned in the first segment of this guide to F1. Mercedes is a German brand, so the Mercedes F1 Team is a German team. After World War II devastated the world, the German loss had a huge effect on racing, and German teams were not allowed in any motorsports for around 10 years after the end of the Second World War.
So in mid-1954, Mercedes entered F1, with the 1954 World Drivers' Championship in full swing. The constructors' championship didn't exist until 1958. In 1954, 1951 World Champion Juan Manuel Fangio left Maserati in the middle of the season to join Mercedes. He won the 1954 Championship with Mercedes, an astonishing achievement. However, in 1955, disaster struck. At the famous 24 Hours of Le Mans race of 1955, there was a major tragedy.
READ: The 1955 Le Mans Disaster
A Mercedes driver, who was part of this major crash, died in the accident. This prompted Mercedes to leave motorsports COMPLETELY. Fangio won the 1955 F1 title, despite the cancellation of many races in Formula 1, and it was Mercedes' last year in F1 as a team until 2010.
Mercedes Return To Formula 1
Mercedes returned to F1 in 1993 as engine suppliers to Sauber. Engine suppliers are companies that make F1 engines and supply them to existing teams in F1. An engine supplier doesn't have to have their own team in F1. Till date, Mercedes still supply F1 engines to other teams. The Mercedes engine won the 1998, 1999 and 2008 Titles supplying McLaren. In 2009, Mercedes were last-minute engine suppliers to the brand new team Brawn GP. Brawn GP was incredibly successful, winning the 2009 Drivers' and Constructors' Titles. After that, Mercedes made a full return to F1. They bought Brawn GP and became Mercedes-AMG Petronas F1 Team.
At the 2010 Formula 1 Season, Mercedes had returned to Formula 1 as a full-blown constructor for the first time in 55 years. Since this was an emergency decision, the chassis of the car was a Brawn GP chassis, and the car was not expected to perform. However, Mercedes still managed to build up a lot of hype. This is because they brought in a driver lineup of 7-time World Champion Michael Schumacher. He came out of retirement after a 3-year break. Mercedes also signed the rising star of Nico Rosberg.
From 2010-2012, Mercedes weren't so successful in F1, as Sebastian Vettel and Red Bull dominated. In 2010, Nico Rosberg scored podiums in Malaysia, China and Britain. In 2011, he didn't score any podiums or wins, and in 2012, he scored a podium and Mercedes' first win in F1 since 1955. Michael Schumacher only scored one podium with Mercedes, and that was at the 2012 European Grand Prix.
Then came 2013. This was a major turning point for Mercedes. Mercedes brought in Toto Wolff to become the executive director of the Mercedes F1 Team. Wolff also acquired 30% of Mercedes-Benz Grand Prix Ltd. Ross Brawn was still Team Principal in 2013, but he left the team after that season. Also, Michael Schumacher retired, leaving a seat for a new driver at the team. And this is when Lewis Hamilton came to Mercedes. It was an essential move that forever changed the history of Mercedes, and as you will find out, the history of Formula 1.
2013 was a big step up for Mercedes. They were planning these changes, which is why they compromised in 2012. In 2013, Mercedes were on fire, seeing so much new success. Their car, names the W04, was incredibly quick. Lewis Hamilton scored a race win in Hungary, which was his very first race win with Mercedes, and it was the first of many to come. Hamilton also scored podiums in Malaysia, China, Canada and Belgium in 2013. Nico Rosberg did very well in the W04 as well, and scoring race wins at Monaco and Britain, along with podiums in India and Abu Dhabi. Overall, Mercedes finished 2nd in the constructors' championship in 2013. It was an incredible and unprecedented achievement.
Mercedes scored a total of 360 points in 2013, which was much more than the 142 they scored in 2012. However, Mercedes were still 236 points behind Red Bull at the end of the year, which is why 2014 was an even crazier year.
Mercedes' Recent Dominance
2014 saw the first major regulation change in a VERY long time. This regulation change pushed Mercedes into an era of dominance that Formula 1 has never seen. 7 years. It has been 7 years since this Mercedes-dominated era began. The reason for Mercedes' success originally began with the engines they made. This regulation change saw changes to the engine and the chassis/body of the car. Mercedes REALLY took advantage of this regulation change and put loads of money and effort into making an unbeatable engine, and a competent chassis. I give more credit to the engine because teams like Force India and Williams, who purchased Mercedes engines, succeeded as well.
NOTE: I will explain the details of the 2014 regulation change in the technical part of this guide to F1, and not on this page.
It was the first time since 2004 that Formula 1 had seen such insane dominance. In fact, Mercedes were even more further ahead of the competition than Ferrari were in 2004. Out of the 19 races that took place in 2014, Mercedes only didn't win 3 of them. It was a spectacle the world had never seen. Such dominance continued through 2015 as well, despite Sebastian Vettel and Ferrari trying to bring the fight to Mercedes.
In 2016, Nico Rosberg spent his final year in Formula 1 fighting and eventually winning the Driver's Title. As for Mercedes, they STILL took the Constructors' title by a landslide, despite the continuous fighting between Nico Rosberg and Lewis Hamilton.
In 2017, things got more competitive. Ferrari had a much better car, and their drivers were starting to do well. With Nico Rosberg leaving F1, Valterri Bottas left Williams to join Mercedes as their 2nd driver. It looked like Sebastian Vettel could keep Lewis Hamilton from reclaiming the drivers' throne, and Kimi Raikkonen was no slouch either, so Ferrari was in a good spot to give Mercedes a run for their money.
Ferrari had genuine competitiveness, and for the first 12 races of the season, Sebastian Vettel was leading the driver's championship. The season consisted of 20 races, so Vettel lead for the majority of the season. Since Kimi Raikkonen wasn't doing as well as Vettel and the Mercs, Ferrari were still 2nd in the constructors' standings. However, Mercedes picked up the pace when it mattered, and took the championship after an incredible strong 2nd half of the season. Mercedes scored a total of 668 points, which was a ginormous 146 ahead of Ferrari's total of 522 points.
Even though 2017 was eventually a successful year for Mercedes, it looked like 2018 DEFINITELY wouldn't be the same. In winter testing, Ferrari was flying, and Sebastian Vettel won the first 2 races of the year. Vettel and Hamilton kept battling for the top spot throughout the first half of the season. But after the 2018 German Grand Prix, Ferrari fell, while Mercedes stunned everyone with their unbeatable pace to win their 5th consecutive constructors' championship in a row, equalling the record Ferrari had set from 2000 – 2004.
In 2019, Ferrari had a disastrous year. Mercedes, in stark contrast, had a FANTASTIC year and beat Ferrari to the constructors' title by an astonishing 235 points. This was a record-breaking title win since Mercedes broke Ferrari's record of 5 consecutive constructors' titles. Mercedes also broke the record for the most consecutive drivers' titles for the same team. Both of these records were previously set by Ferrari. They had their insane era of dominance from 2000 – 2004. Mercedes also secured a 1-2 in the drivers' title, since Ferrari's lack of pace allowed Hamilton and Bottas to cruise to 1st and 2nd in the constructors' standings.
We already know about Mercedes' dominance in 2020. They won the 2020 Formula 1 Constructors' World Championship by 254 points. Out of the 17 races that took place in the season, only 3 races were won by a driver from another team. And on top of that, Lewis Hamilton won 12 races. In 2020, Mercedes won the constructors' championship with 4 races to go in the season, despite the season being shorter than usual because of the COVID-19 pandemic. Mercedes were unchallenged by runner-up Red Bull, and their 2020 car was so good, that, as I mentioned earlier, they started working on their 2021 car in the middle of 2020.
I can't wait to see how the reigning champions perform in 2021, and I'm sure you can't wait either! To learn more about the other Formula 1 Teams, visit the 2021 Formula 1 Teams page, where you can access all the guides to all of the Formula 1 Teams. Click here to go back to the main page →.