The 2021 British GP is looking to be one of the best races of 2021. The 2021 Austrian GP was a memorable and exciting race. But at the British GP F1 fans hoping for an even more exciting race weekend. Factors like Sprint Qualifying have set the stage for a great weekend. Another important factor is the close title fight between Verstappen and Red Bull & Hamilton and Mercedes. Red Bull have won the last 5 races, with the last 3 being won by Verstappen. However, you can always count on Mercedes to have an ace up their sleeve. And of course, there will be a full attendance at the Silverstone Circuit this weekend, which is great news for the British fans.
Apart from these circumstances, there's the fact that the 2020 British Grand Prix was incredibly exciting. There were plenty of crashes and loads of tire drama. And with the 2021 season proving to be a thriller, we can very much expect to see some exhilarating racing. So let's get into exactly what you guys should be looking out for in this race weekend. We'll be taking a detailed look into how and why Sprint Quali is a must-watch. We'll also look at how the title fight could turn on its head, while at the same time, Red Bull can stretch their lead even further.
Why Sprint Quali is PERFECT For The 2021 British GP Weekend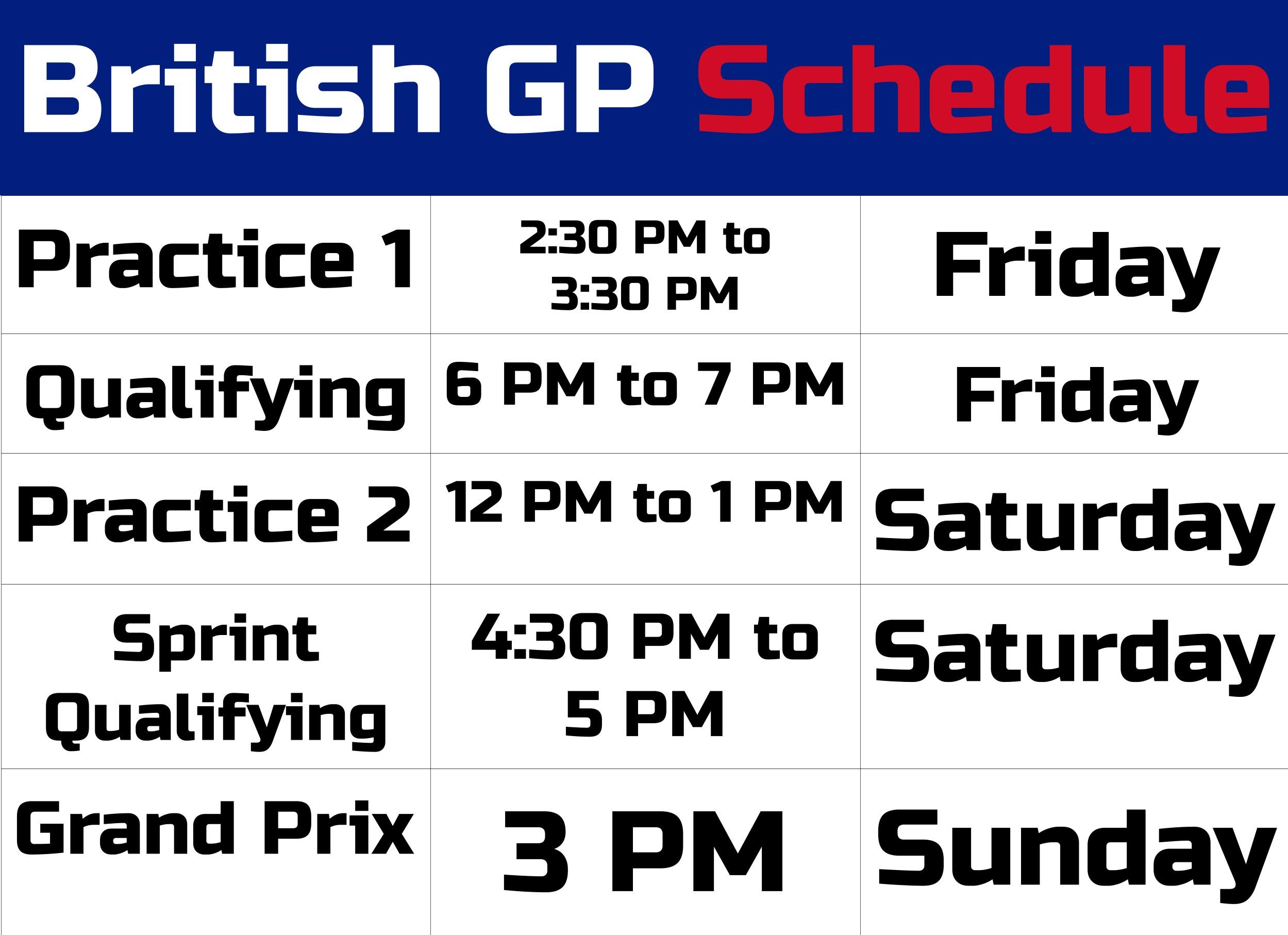 With full capacity for fans at this year's race, Sprint Quali is EXACTLY what F1 needed for the 2021 British GP. Last year, both the races in Silverstone saw zero attendance due to the pandemic. But this year, expect to see the British fans cheering on their favourite drivers from the grandstands. Instead of allowing them to enjoy 1 race, they get a tense sprint race the day before the main GP! It is a little worrying, however. A massive crowd of 140,000 fans at the 2021 British GP end up causing a massive spread of the Coronavirus. But still, for the atmosphere and for the enjoyment of the F1 fans, it's going to be the perfect setting.
Here's a bit of a background that explains why Sprint Quali is so fantastic. To read a full detailed roundup about Sprint Quali, check out our blog post about it! Sprint Qualifying brings is a brand new weekend format. It features a new 'Sprint Qualifying' race, which will be run over a 100km distance. This race is a sprint race where teams don't have to pit, but it does have DRS and a grid start like a normal race. The finishing order of the Sprint Quali race will determine the grid order of the main race.
The main race will take place, as usual, on a Sunday afternoon, and will run the full distance of the race. The usual 3-part qualifying will take place on Friday evening/afternoon. That will determine the grid order of the Sprint race on Saturday afternoon. The sprint race will be around a third of the distance and duration of a normal Grand Prix. A normal GP runs over 305 kilometres.
A Grand Prix is around 50-60 laps long, meaning that a Sprint Race would be around 15-20 laps long (17 laps for the British GP). In terms of the time duration of a race, a Sprint Race is expected to be around half an hour long. Since this race is so short, drivers will be aiming to give it everything. At the same time, the drivers will want to keep in mind that they mustn't damage the car before the actual Grand Prix the next day. Tire management will also be key because the Sprint Race doesn't have any mandatory pitstops.
Formula 1, the FIA, and all 10 teams reached a unanimous agreement to go ahead with Sprint Qualifying. It's a sign of great unity, and it also means that Sprint Qualifying is something you don't wanna miss! The possibility of a sprint race has been there since February, and now we've finally got the confirmation. Formula 2 and F3 have sprint races, which have inspired F1 to try and follow a similar approach.
There's a clear reason behind F1 adding Sprint Qualifying. A Sprint Race clearly means that the F1 weekend is even more exciting and unpredictable. F1 have been trying for a while to make some exciting and new changes to the sport, and they've finally found something. They've found a way to add a major excitement to every single day of the race weekend, which can be really beneficial for F1. Sprint Races have been featured all over motorsports before. To read a full detailed roundup about Sprint Quali, check out our blog post about it!
The pressure will be on this weekend. The teams will only have one 60-minute practice session before qualifying on Friday. They have to get the car setup right, and the drivers will have less time to get used to the track and the setup. before the serious push laps begin. The drivers will have to also manage their tires well because the Silverstone circuit is quite harsh on the tires, and a pitstop would really cost the drivers in the sprint race. F1 are hoping that the drivers won't have to pit.
The purpose of this race is that it is a flat-out, thrilling sprint. The fact that it's fairly difficult to overtake at Silverstone can also mean that the drivers will be pushing harder and trying to get past their competitors as soon as possible. It can also mean that drivers who have the better race pace can benefit from the extra race and score more points this weekend. It's very unpredictable, we don't know how it'll turn out, which is EXACTLY why Sprint Quali is worth watching!
The Fierce Title Battle Will Just Get Fiercer This Weekend
This season has seen a hugely exciting and unpredictable title battle between Mercedes and Red Bull. We've reached Round 10 of the 2021 F1 season, but both these teams were giving it everything from the very beginning. In the previous race this season, the Austrian GP, Verstappen achieved an F1 Grand Slam. An F1 Grand Slam is when a driver qualifies on pole position, achieves the fastest lap of the race, leads every lap of the race and wins the race. Lewis Hamilton dominated the 2020 F1 season and didn't achieve a single Grand Slam in that year. We're not even halfway through the 2021 F1 season, and Verstappen's already achieved one. Also, Red Bull and Verstappen have won the last 5 and 3 races respectively. They've made a steep slope for Mercedes to climb if Mercedes want to win the title.
At the 2021 British GP, it's anyone's game. If you look at last year, Mercedes were strong at the British GP. Late punctures in the race ruined their race, but they were still really strong. At the 70th Anniversary GP (the 2nd race at Silverstone last year), Red Bull was way stronger. The searing summer heat nerfed Mercedes and allowed Verstappen to dominate that race. It won't be that hot this weekend, but at the same time, Mercedes aren't dominating this season. The odds are looking good for Red Bull, but don't underestimate Mercedes; they might just have an ace up their sleeve.
To make things even more exciting, teams like McLaren and Ferrari will be striving to infiltrate the Top 4. McLaren's Lando Norris achieved that 3 times this year by scoring podiums at Imola, Monaco, and Austria. Ferrari has achieved a podium at Monaco with Carlos Sainz as well. Charles Leclerc has been in the Top 4 in a few races this season as well. So far this season, the midfield teams have definitely been chasing after and even beating one or two of the Red Bull and Mercedes drivers. I think that at the British GP we're going to see either a Ferrari or a McLaren on the podium because both teams are looking strong and fast enough to challenge the top teams for podium places.
I hope you enjoyed this post and are as excited as I am for the 2021 British GP. Sprint Quali will take place at 3:30 PM UTC! Stay safe, stay on the lookout for new posts, and enjoy F1ntastic!