Max Verstappen has Formula 1 fans at the edges of their seats. He was clearly the fastest in the Bahrain Grand Prix FP1 session, the very first Friday Free Practice Session of the 2021 Formula 1 Season. It was a common belief in the F1 world that Mercedes was just sandbagging in pre-season testing. For those of you who don't know, sandbagging is when a team intentionally slows down their cars in testing. This is something that Mercedes have done for the past 7 or so years. They've given their competitors hope. Then the first round of the season comes up, and Mercedes absolutely destroy the competition. However, this year, Mercedes had a nightmare in testing. They were genuinely really slow.
And it seems that they haven't quite gotten back to their full blistering pace yet. Red Bull Racing driver Max Verstappen put in a lap time of 1:31.394, which was a clear 0.298s faster than Valterri Bottas's fastest time. Bahrain Grand Prix FP1 times last year were over 2 seconds faster than the times this year. However, the drivers are still getting to grips with their cars, and this year's cars were designed to be significantly slower than last year.
Close behind Bottas was McLaren's Lando Norris, who was 5 tenths of a second slower than Verstappen. But the closest together in terms of pace was Lewis Hamilton and Lando Norris. Hamilton's fastest lap was only 0.024s slower than Norris's lap. Hamilton was one of the multiple drivers who only set lap times on the soft tires today. Ferrari had some good pace today, with Charles Leclerc less than a tenth slower than Hamilton. Leclerc was in P5, while his Ferrari teammate Carlos Sainz finished FP1 in 8th. He was about a second slower than Verstappen. The Top 8 are all in a 1-second window, showing promising signs of very close racing in 2021.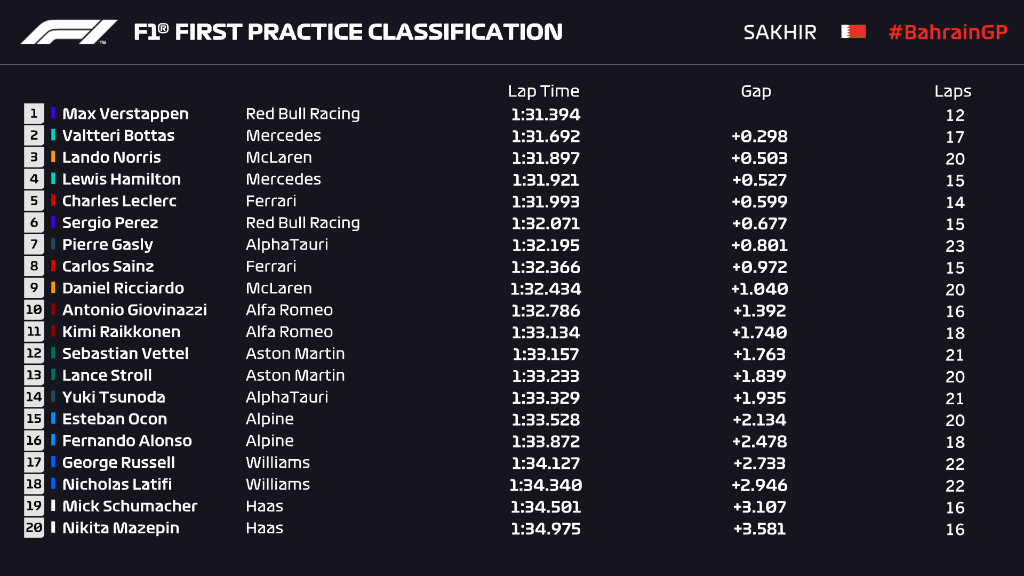 In 6th and 7th were Red Bull's latest signing, Sergio Perez, and then AlphaTauri's race-winning driver, Pierre Gasly. Gasly recently wrote a journal entry, expressing his emotions during the toughest moments, and the greatest moments of his life. Check it out on The Players' Tribune!
The Honey Badger of Daniel Ricciardo brought his McLaren home in P8, around half a second slower than his teammate Lando Norris. The Australian veteran is still learning the boundaries of his new McLaren car, and will soon be taking the fight to his younger teammate. The Alfa Romeo pair were flying high in P10 and P11, with Giovinazzi ahead of Raikkonen by 4 tenths of a second. Vettel headed the Aston Martin pair, finishing in P12, with his teammate Stroll in P13 behind him.
The Rapid Rookie of Yuki Tsunoda finished in P14, after his lap was hampered by traffic, which clearly angered Tsunoda. Just behind the Japanese racer was the pair of Alpine drivers. We saw Esteban Ocon besting Double World Champion Fernando Alonso by 3 tenths of a second. Behind the Alpine pair was the Williams pair of George Russell and NIcholas Latifi. The Williams cars were carrying a heartfelt tribute to Murray Walker on their halos. Seeing that quote put a lump in our throat. The 2 Haas rookies were the ones 19th and 20th, with Mick Schumacher just above 3.1 seconds slower than Verstappen, and Nikita Mazepin 3.5 seconds behind.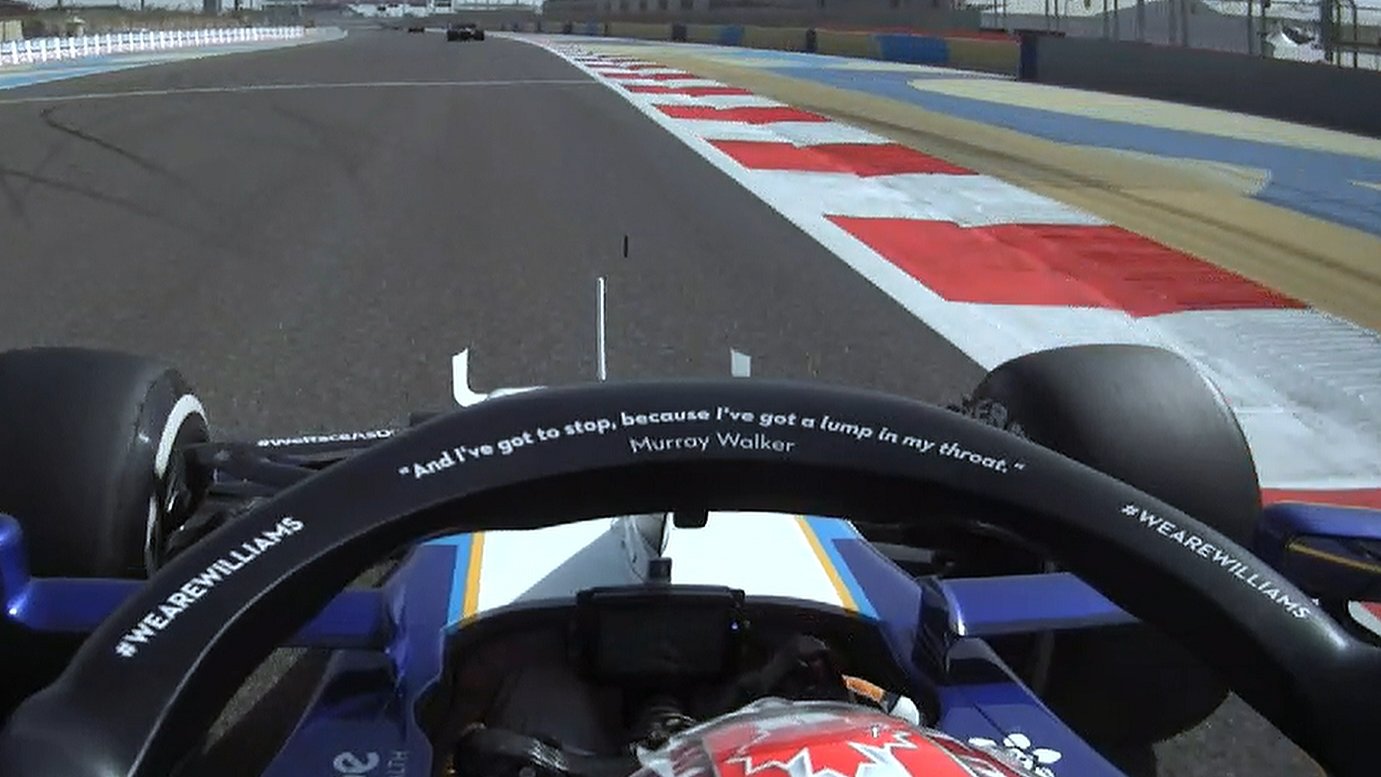 FP2 will be even more exciting, because this is the teams' chance to gather the right data for Qualifying and the Race. FP2 takes place at pretty much the same time of day as Quali and the race, so the teams can get vital data in the session.