The Bahrain Grand Prix FP2 session was an incredibly important, and exciting, session. Free Practice 2 (FP2) is always important at the Bahrain Grand Prix. FP2 is the only session that the teams have to run their cars at the same time of day as the race and qualifying. As they did today, teams gather a lot of data from qualifying simulations and race simulations in FP2. But along with the teams gathering data, the drivers were racing around to try and get to the top of the timesheets. Max Verstappen was fastest under the floodlights, posting a time of 1:30.847. The Red Bull driver barely beat Lando Norris, with the McLaren driver just 0.095 seconds slower.
READ MORE: Bahrain Grand Prix FP1 Report: Verstappen Fastest In Season Opener
However, it was still a very positive sign for Verstappen and Red Bull, because they were fastest in FP1 as well. A strong Friday is always a good thing, especially when it's the first race of the season. And it was clear that Verstappen is in control of his car because data indicate that Red Bull are faster than Mercedes in slow and medium-speed corners. Mercedes have a tiny advantage in the high-speed corners. But what Red Bull need to work on is their straight-line speed. Mercedes are supremely quick when it comes to the straights.
However, as I said, Red Bull are quicker in the medium and slow corners. The reigning World Champion Lewis Hamilton finished the session in 3rd, and his fastest time was 0.145s slower than Norris and 0.235s slower than Verstappen. The Tifosi can relax a little bit more, as Carlos Sainz finished a promising P4, just 0.045s behind Hamilton. And behind him was an upset Valtteri Bottas, who labelled the Mercedes W12 "undrivable".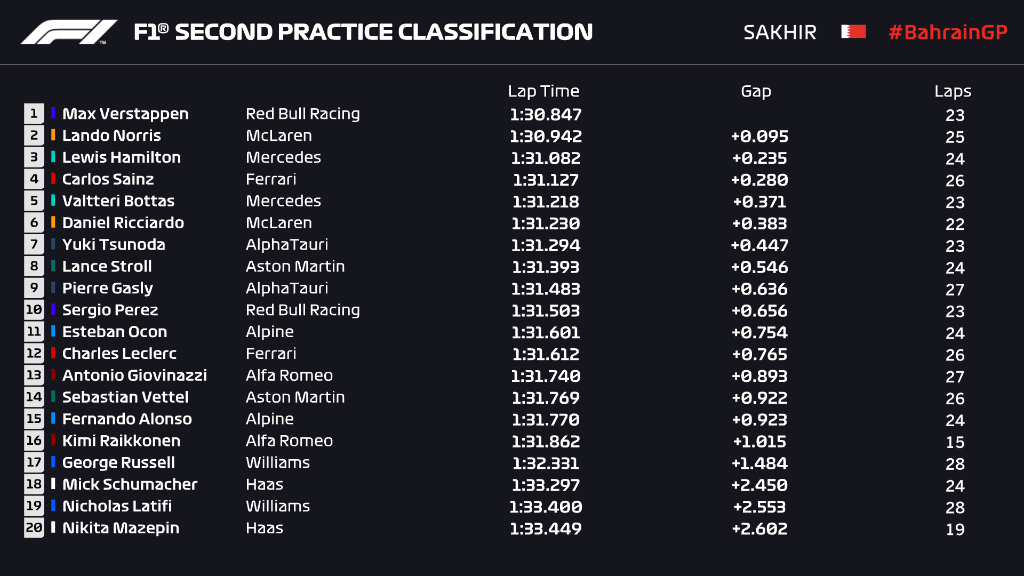 FP2 was a good practice session for McLaren because Daniel Ricciardo finished in 6th. The Honey Badger is starting to get to grips with his car. However, he and Norris said "there's still work to do" and that they are still unhappy with their MCL35M. Yuki Tsunoda put in a rapid lap, which got him up in an excellent P7. And Lance Stroll raced his underperforming AMR21 to P8. That's a really high position, because the Aston Martin is far from fast, and 4-time World Champion Sebastian Vettel could only manage to finish in P14. Tsunoda's teammate Gasly finished ahead of Sergio Perez, who rounded out the Top 10. Esteban Ocon brought his A521 to P11, ahead of Charles Leclerc in P12. Antonio Giovinazzi was looking quick in the Alfa Romeo, as he finished in P13. Behind Vettel in P14 was 2-time World Champion Fernando Alonso.
Alonso's lap time was 0.923s slower than Verstappen's meaning that 15 cars are all covered in 1 second. That's an INSANELY close timesheet, and it proves that 2021 is going to be the most exciting season of Formula 1 in a long time. And behind Alonso was 2007 World Champion Kimi Raikkonen. These 3 veterans all struggled in FP1 and FP2, as they're still getting to grips with their cars. In fact, Raikkonen had a big crash at the exit of Turn 3, where he lost control of the rear end of the car, and crashed into the barriers. He lost his front wing, but he limped back to the pits, where his Alfa Romeo crew repaired his car,
And finally, the last 4 spots in the standings were occupied by a Williams/Haas checkerboard. George Russell finished ahead of Mick Schumacher, Nicholas Latifi and Nikita Mazepin (in that order). Russell was a full second faster than Schumacher, meaning Haas's troubles continue.
If this session indicates anything, it's showing that the 2021 Formula 1 season is going to be like no other. We're going to have some seriously close racing, and possibly a good fight for the drivers' and constructors' championships. Tomorrow we have FP3 and Qualifying, where we'll get a clearer picture of the true pace of the drivers and the teams. One of the biggest questions is whether McLaren have bridged the gap between the front-field and the midfield. Another question is whether Mercedes can pull their socks on and grab pole for the 2021 Bahrain Grand Prix. Stay safe, and stay on the lookout for new posts!